Scare Los Angeles is a convention in it's second year that concentrates on all things Halloween. My only real reason for attending was to see the panel called "When Hinges Creak: Celebrating 45 Years of The Haunted Mansion" which was hosted by Jeff Baham of Doombuggies.com and featured Disney Legends Bob Gurr and Alice Davis. However, I didn't get a chance to see the whole presentation. If you want to know why, keep reading. Otherwise, scroll down to see photos of the event.
10:07am – The event was held at 'The Reef' in Downtown Los Angeles and I showed up shortly after 10am to stand in line.
10:17am – For the first 10 minutes the line seemed to move at a decent pace but then suddenly stopped as I neared the corner of the building that we were wrapped around. 15 minutes went by and still in the same place.
10:32am – Worried about us not moving.
10:42am – Another 10 minutes went by and I began to get a bit more worried because I knew the panel started at 11am. I began to get a bit nervous when the clock said 10:53am.
10:54am – About this time, I saw Jeff (Baham) scurrying by searching for some of his guests. Knowing I probably wasn't going to make in on time to see the beginning of panel I handed my audio recorder over to Julia (one of Jeff's guests) and asked if she wold be willing to record the panel. She agreed and took the recorder. I figured I would grab the recorder at the end of the panel.
[Sidenote: Huge thanks to Julia for doing this!]
11:08am – At this point the line started moving again and I finally made it in the building, confirmed my registration and got my wristband to confirm my attendance. I walked towards the elevator to head up to the second floor where the panel was being held and waited. I made it over the room where the panel was being held just in time to see them place a sign on the door that read "Full".
11:18am – There was a group of 6 waiting to get in (including me). There was one person that was very vociferous about how angered she was about the situation and asked to speak with a manager.
11:23am – The manager came over after several minutes and was trying to calm the guest down and kept apologizing. Long story short, the guest left in a fit of anger.
Now, before I continue with the timeline I have to say that I can understand the trouble and frustration of the person attending but I can also empathize with the person putting on the event. Since I help organize the Citrus Art Walk and theLa Puente Art Walk's I can say that putting together these types of events are a labor of love because you generally don't get paid for it. Most of time it actually can cost you money. So, in short, you get 0% of the financial benefit and 100% of the stress.
11:29am – The manager explained (to all of us) that she understood all of our frustrations and was trying to make it better but the guest wouldn't really let her speak.
11:30am – The manager says that since some people have left the room that she would allow us to get in as long as we were very quite and quickly found a place to sit. So we did.
So, what's the lesson here? We all get frustrated but verbally attacking someone that can make a difference in whether or not you'll get something that you want is a bad choice.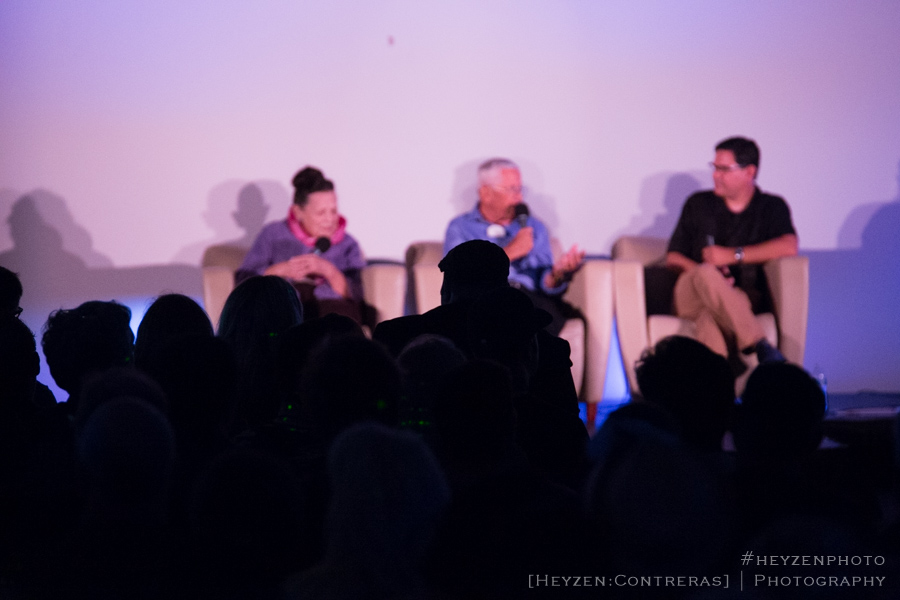 So now I'm in the panel and I got to see a lot of concept art by Marc Davis (one of the people directly involved in the development of the Haunted Mansion) and had a chance to hear Bob Gurr and Alice Davis speak about the development. Here is some of the concept art presented during the panel (from when I walked in):
Here are some photos of Jeff, Bob and Alice during the panel:
Even though I had to listen to the first half in the audio recording, it was a great panel and I really enjoyed what I got to see live. ???? Lets jump to late afternoon now.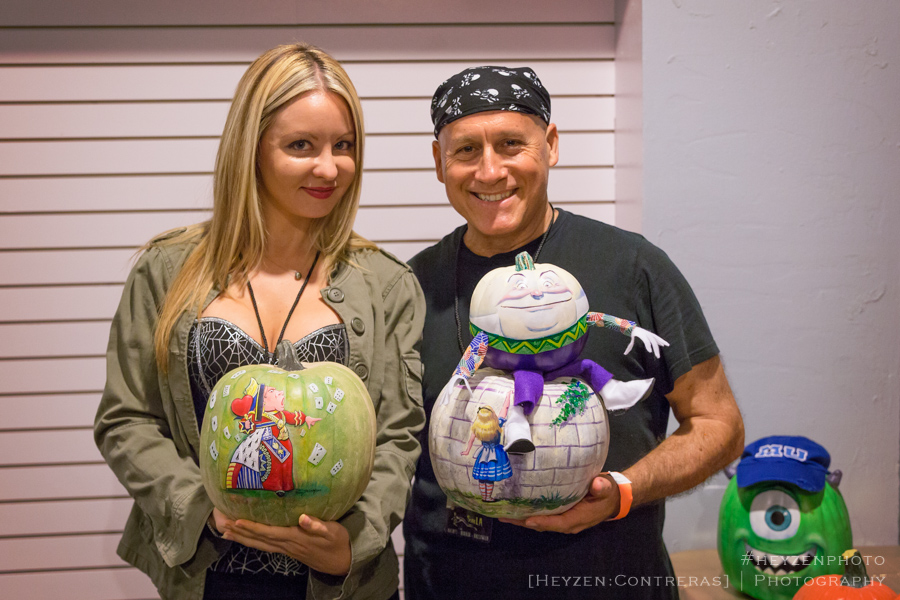 That afternoon I was able to attend a lecture/class presented by Bridget McCarty and Joe Yakovetik on pumpkin carving. This made me want to really make something cool this Halloween. Both Bridget and Joe have worked at Disneyland as pumpkin carvers/painters during the Halloween season and as you can see from the images above they are really talented!
Well, that's it. Hope you liked the images from these presentations. Here are some external links related to this post for your own perusing pleasure:
Bridget McCarty Fine Art (on Facebook)
Thanks for coming by! See you next week!
Feel free to save these for yourself and share them! I only ask that you do not remove my watermark and that you don't alter the photos in anyway (i.e. adding filters, etc) when posting.
Like any of the photos in this post? I would love it if you took a moment to like my Facebook page or follow me on Instagram and Twitter! Just click on the 'Like page' and 'Follow' buttons! 🙂